One of the most crucial tools for altering the interface and many more things of your Android device is the TWRP Recovery. This incredible tool is a storehouse of modders with numerous and fruitful tools to customize your phones just like you want. If you are here to know how you can install and make use of the TWRP recovery on your Redmi Note 7.
let me tell you, you have dropped on the right page. Here we have provided you a brief article on how to install TWRP Recovery and also how to use it so that you can customize your Redmi Note 7 as per your wish. Before getting into the actual procedure of installing TWRP on  Redmi Note 7 let us first know the ABC of it.
---
What is TWRP Recovery?
TWRP stands for TeamWin Recovery Project. It's an open source software custom recovery for rooted Android devices. It's helpful to install third party firmware and backup your current system. It also supports the installation of custom ROMs, kernels, add-on e.g. Gapps, and other mods. Using TWRP you can wipe, format, install or backup your system.
There's an application on play store to install TWRP recovery called TWRP manager but remember that your device must be rooted and it's a little risky task. There are alternative to TWRP such as CWM, PHILZ TOUCH RECOVERY etc.
The Advantages of TWRP Recovery:
Makes a full backup of the phone. (Way more powerful than even Titanium Backup)
Restore a full backup in one step.
you can root your phone.
And also install ZIP files and custom ROMs on the phone.
You can wipe cache and reset your smartphone.
And take a backup of your current data and restore it whenever you want to on the Redmi Note 7.
Perform a Hard Reset "Wipe" with advanced options.
Standard Setting doesn't wipe Media.
Must check:- Download and Root With Latest SuperSU Zip and SuperSU Apk
The Disadvantages of TWRP Recovery:
Perform scheduled backups.
Except it won't back up media.
And you may brick your Phone if you do not follow the steps correctly.
Also, the user will not be able to get OTA updates anymore on the device.
If you run into an issue with your phone, want to perform a wipe and don't have a recent backup, creating a backup will probably also back up the issue.
Here are some terms that are often pronounced with TWRP, let us get acquainted with some of those.
---
What is Custom Recovery?
The recovery is another system used to manage/wipe/reformat your partitions. TWRP refers to a custom Recovery which allows you to install custom ROMs in a zip format. The recovery follows the directions which are contained in the ROM zip file.
What is Rooting?
Rooting describes the process of getting administrative privileges on your android phone. You need those privileges to mount your system partition as read and write so you can modify the files and settings. Most of the time you will have to boot your phone into the bootloader and then flash a root file (like the one from ChainFire) from your computer but there are also apps which can enable the root access by a simple click for certain devices.
What is Bootloader?
The low-level implementation of a system which can be used to flash software onto your phone's partitions. Often used to flash root privileges or Stock ROMs.
Now that you know the very basics of TWRP Recovery, let us get to the actual part of our topic. Here are two ways by which you can perform the task of installing TWRP Recovery on your device. But before that, do make sure that you meet the needs of the Pre-requisite mentioned below. ?
Pr-requisite for installing TWRP Recovery:
Remember to keep the following necessities in mind for installing TWRP on your Redmi Note 7.
Make sure to charge your Redmi Note 7 fully. so that it does not make any hindrance in the process later on.
Use only a certifies USB Cable by the manufacturer.
Make sure to unlock  bootloader on the Redmi Note 7.
Make Sure You have installed ADB Driver and Fastboot on your PC/MAC.
Disclaimer
www.androidjungles.com is not responsible for any sort of damage or loss caused to your device throughout the process. We do not take any responsibility of successful completion of this procedure.
While performing the process, make sure to pay utmost attention on every step so as not to put yourself in any problem. From the below two methods, you can give a try to any of the ones as per your convenience.
Also see:- Download Xiaomi Mi Flash Tool
---
How to Install TWRP Recovery via ADB on Redmi Note 7
Step 1. To begin with, download the TWRP recovery image of the Redmi Note 7. You can rename it as you wish so as to find it with ease later.
Open the folder where your TWRP Recovery .img file is saved.
Step 2. To enable USB debugging, navigate to Settings > Developer Options > USB Debugging.
Note: Unlocking Bootloader is an important step before you install TWRP recovery. It is not recommended to install TWRP recovery before unlocking the bootloader.
Step 3. Then open a CMD window inside that folder. To do that, Shift + Right-click on any empty white space inside the folder and then select Open command window here.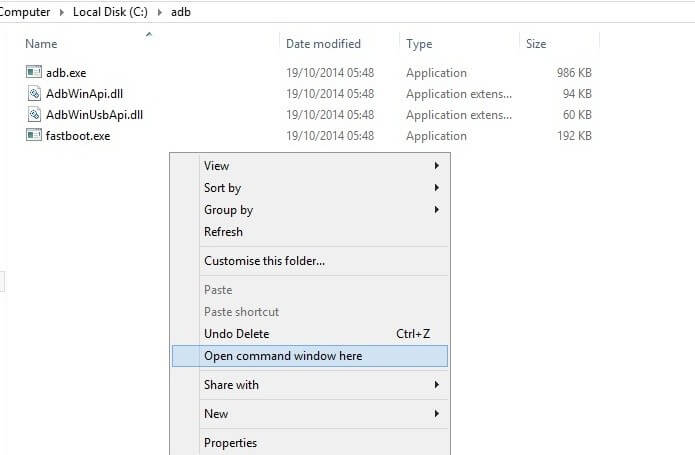 Step 4. Connect your Android device to the PC via USB Cables of good quality. Type the following into the command window to boot your device into bootloader/fastboot mode:
                         adb reboot bootloader


If you are asked for permission to "Allow USB debugging", tap OK.
Step 5. Once your device boots into bootloader mode, type this into the command line. Change the Recovery name with your Downloaded file name.
            fastboot flash recovery twrp

-

2.8

.

x

.

x

-

xxx

.

img


Here modify twrp.img with the name of your TWRP recovery .img file.
Step 6. Once TWRP is successfully flashed on your device, type this final command to reboot your device.

                         Fastboot reboot
Step 7. And you are all done! You have successfully installed TWRP Recovery on your Redmi Note 7.

---
Install TWRP Recovery on Redmi Note 7 Using Flashify
Step 1. Beginning with downloading the Flashify App on your Redmi Note 7. You can download this app from Google Play Store.
Step 2. Once you have downloaded the App, open it. Over there, you will come across three options.
1. Boot Image
2. Recovery Image and
3. Zip File
here, click on the Recovery image as soon as you click it, you will see more options.
Step 3. Now click on the Download TWRP option. You will come across one other option over there- Download CWM Custom Recovery but since we have to install TWRP Recovery, consider clicking that.
Step 4. After having clicked that, it will start downloading on your Redmi Note 7. Once the download gets finished, click on YES Install Custom Recovery.
Step 5. Your job here is done now. All you have to do is sit right back and let it install on your Redmi Note 7.
You have now successfully installed TWRP Recovery on your Redmi Note 7. You are now free to use it as per your will to customize your device.
---
How to use TWRP Recovery?
Flashing ZIPs:
Let's face it, this is the main reason you installed a custom recovery to have access to all of the hacks that come in the form of a flashable ZIP file. In fact, it's such a key feature of TWRP that it's the very first button on the home screen.
To start flashing a ZIP, just hit the Install button on TWRP's main menu. From here, you'll be shown your device's internal storage folder tree. As a rule of thumb, ZIPs that you've downloaded from the internet will be in your Download folder, so head in there.
NANDroid Backup
Perform full system backups to hold onto just in case you screw something up on your phone. It's always a good idea to backup before you flash any kind of ROM.
Finalizing the Flashing Process
After installing a ZIP file, TWRP gives you a few options: Home, Wipe Cache/Dalvik, and Reboot System. The first option takes you back to TWRP's main screen, and the third option should be self-explanatory. The second option, Wipe Cache/Dalvik, is one that should be noted.
Android accumulates various bits of data as you continue to use it. Sometimes, this data is specific to your current setup. Certain mods will cause conflicts between the new functionality they bring and the existing data on your device.
Most mods, however, will not cause a conflict with this data. But when in doubt, wipe it out. Simply tap Wipe Cache/Dalvik after flashing a ZIP, then swipe the slider at the bottom to remove any potentially-conflicting data.
Wiping Existing Data
When using TWRP to install a new ROM, it's a good idea to wipe the existing firmware to give the new system a clean slate upon which to install.
So before installing CyanogenMod, for instance, you'll want to wipe the stock firmware from your device so there are no conflicts. From TWRP's main screen, tap Wipe to begin. The preset wipe mode will work perfectly fine in most cases, so swipe the slider at the bottom to perform the wipe.
If you're experiencing bugs and you want a completely fresh start, or you just want to be entirely sure there's no preexisting data left to cause conflicts, you can use the Advanced Wipe feature from the same screen. From here, just tick the boxes next to Dalvik Cache, System, Data and Cache, then swipe the slider at the bottom to perform a full wipe.

Fixing Permissions:
Sometimes, flashing mods and installing root apps can cause Android to sorta "forget" what permissions various apps had to begin with. System-level apps need their permissions set a certain way to perform correctly, so you could end up with minor bugs and force closes after installing a hack.
If this ever happens, you can easily reset all apps on your device back to their proper permissions using TWRP.
From the main screen, tap Advanced, then choose Fix Permissions from the following menu. Then just swipe the slider at the bottom and all of your apps will automatically be given the proper permissions for their respective folders.
Restoring an Existing Backup:
If you've already created a backup and you were tinkering around with a cool mod. But this mod wasn't compatible with your device, and now you can't seem to start Android. No worries, you have a custom recovery installed, remember?
From TWRP's main screen, tap the Restore button. Next, you'll be shown a list of all the backups you've made with TWRP. Just tap the one with the most recent date as its file name, and you'll be presented with the available partition images that you can restore. If you copied the nandroid to your computer, move it back to the TWRP/Backup before you restore.
Again, it's probably best to leave everything ticked, then you can simply swipe the slider to restore.
Booting Back into Android:
To get out of TWRP and back into Android, start by tapping the Reboot option from the home screen. On the next menu, simply tap System to boot back into Android.
Do read our articles:- Spotify Premium APK 8.44.88.150, 8.5 Download (2019)(No Root)
Highlighted Specifications of Redmi Note 7:
Before getting into the Recovery process, Let us see some highlights of the features of Redmi Note 7.
Redmi Note 7 comes with the Android 9.0 (Pie) Operating System.
It has a resolution of  1080 * 2340 pixels and a display screen of 6.3 inches.
The Redmi Note 7 has got the Snapdragon 660 chipset.
It consists of a battery of 4000mAh which is Non-removable.
The camera sensor on Redmi Note 7 -Dual 48 MP and 5 MP rear camera and  Single 13 MP front shooter.
It has got storage of 4/6 RAM and 32 GB or 64GB of Internal Storage.
See other articles:- Lucky Patcher Original Apk – Download V7.5.9 For Android
---
Wrapping Up
TWRP is nothing short of a breakthrough when it comes to Android recoveries. It provides the most impressive user interface we've seen in recovery mode, making it a very easy-to-navigate GUI – a major jump from the traditional menu-based boring and complicated recovery interface found in most other recoveries including ClockworkMod.
And the interface is just the icing on the cake; the several handy features offered by TWRP that are nowhere to be found in other custom recoveries make it THE best custom recovery currently available for Android, period! It also allows users to theme it to their liking by editing an XML file, and fully conforms to the OpenRecovery standard for its recovery operations, rather than going for its own non-standard ways. This standards-compliance makes it compatible with the excellent GooManager app for scheduling flashing of files without leaving the Android environment.
So this was all about TWRP Recovery, how to install it, some of its features advantages and disadvantages as well. Also, we have mentioned how you can make use of this incredible tool. Hope you guys found this article useful in achieving your aim. If you come across any difficulties in any of the steps, do let us know in the comment section below.
Also, Keep visiting our Page or you can also subscribe to our newsletter to receive timely notifications of our tech-related posts.